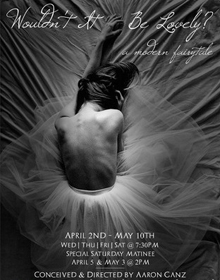 4/2/2014-5/10/2014
Artistically innovative, TE San Pedro Rep is a new up and coming San Pedro Theater company. "A theatrical utopia of participating in art as audience members, performers, and developing artists. Our long term goal has always been focused towards Elysian Fields, our artistic paradise, where we can grow and be inspired by our surroundings," says Aaron Ganz, Artistic Director of TE San Pedro Rep.

Located in Downtown San Pedro, this small theater company is surrounded by an artistic electricity. Surrounded by like-minded artists, it wasn't long before the word got out of the powerful work found in TE San Pedro Rep. Hamlet being the first production held, audiences were drawn to see just how much power could be displayed in a room that can't fit more than twenty people.

TE San Pedro Rep continues to grown with their latest production, "Wouldn't It Be Lovely?" With several sold out performances, this modern day interpretation of Pygmalion is sure to give TE San Pedro Pedro Rep an even stronger reputation.

Wouldn't it be Lovely is showing through May 10. Tickets can be purchased here.