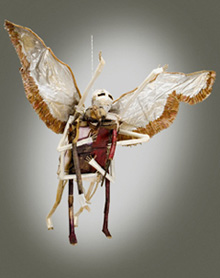 Michael Stearns, Valkyrie , 96 x 96 x 36

MIchael Stearns Studio
As a sculptor and painter Michael Stearns creates wild raucous figures and contemporary abstract images that reflect his interest in the West Coast school of art as well as a desire to connect with earth based influences. According to Stearns, "Works in my portfolio reflect my fascination with color. I identify primarily as a colorist. I love the emotion that color evokes. Color is like music; it connects with us in ways we do not even realize. Mixing intense color creates a calmness and a question all at the same time."
Michael's paintings are now included in numerous private collections across the U.S. and in the Long Beach Museum of Art. Current works include paintings, papier mache and mixed media sculptures, reflecting interest in the southwestern landscape, spiritual studies and veteran issues.
Opening this month at Studio 347, Michael presents the Valentine-themed show, "Love is Blind." Along with six guest artists, Michael explores emotions evoked by the high expectations created by this manufactured holiday. Michael is especially interested in honoring the whimsy of Valentine's Day while investigating the universal truths of human relationships and love.