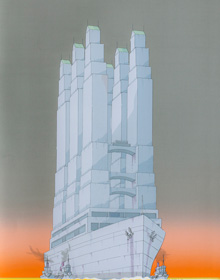 Artist's Reception will be held Saturday,
March 9, from 4-7pm at Gallery 478.


William Crutchfield is an internationally known artist in a variety of mediums - equally at ease, and in rare form, whether painting, drawing, printmaking or creating sculpture. Exiting the mid-west, he and his wife Barbara settled into their current studio in San Pedro, California, where he continues producing works equally renowned for their freewheeling style, irrepressible wit, and formal elegance. Obsessed with things mechanical, particularly trains, planes and ships -- vessels of transport for his imagination? -- Crutchfield shares a Dadaist suspicion of reason and logic, prizing instead nonsense, irrationality and intuition.

This Gallery 478 event was organized by Ron Linden and presented by Arnée and Ray Carofano, the exhibition runs through May 29. For visuals or additional information please call 310-732-2150. Gallery hours are 11 AM – 5 PM, Monday – Friday, and by appointment. This exhibition is made possible in part by generous support from San Pedro Arts, Culture, and Entertainment District, and San Pedro Chamber of Commerce. Artist's Reception will be held Saturday, March 9, from 4 – 7 PM. William and Barbara Crutchfield have dedicated this exhibition to John and Maureen Retsek.