1st THURSDAY
ART WALK & OPEN STUDIOS
May 1, 2014 | 6-9 PM
On the 1st Thursday of every month, enjoy San Pedro's diverse art scene with more than 30 art galleries and open studios. Stroll around in this unique portside town and enjoy gallery openings, artist demonstrations and receptions, live music, entertainment and refreshments. The event is FREE to the public.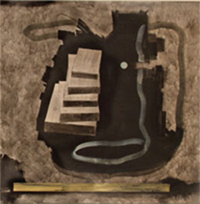 Ron Linden, I.M. Him, 2012, acrylic, graphite on canvas, 43" x 43"

Ron Linden is a painter and curator. In 2009 he founded TransVagrant, a curious collective of artists, writers, and arts advocates, to produce exhibitions and performances at various venues. His work can be found in public and private collections across the United States.

Warschaw Gallery is pleased to present ex-cerpt:, recent paintings by Craig Antrim and Ron Linden. ex-cerpt runs from January 2 though March 9, 2014.


First Thursday Headquarters
Free one-hour guided tour: 6:30 pm
Welcome to the San Pedro Arts, Culture & Entertainment District
Downtown San Pedro's Arts, Culture and Entertainment District and its immediate surroundings are home to over 90 visual artists as well as restaurants, performing arts venues and art galleries. The district is anchored by the Warner Grand Theatre, a 1,500 seat historic art deco movie palace, Little Fish Theatre, which presents repertory theater in a converted garage, and the Loft Studios, a three-story warehouse with a concentration of fine artists. The District's streets are lined with artists' live work spaces.



Featured Show

WOULDN'T IT BE LOVELY

4/2/2014-5/10/2014

Artistically innovative, TE San Pedro Rep is a new up and coming San Pedro Theater company. "A theatrical utopia of participating in art as audience members, performers, and developing artists. Our long term goal has always been focused towards Elysian Fields, our artistic paradise, where we can grow and be inspired by our surroundings," says Aaron Ganz, Artistic Director of TE San Pedro Rep.

Located in Downtown San Pedro, this small theater company is surrounded by an artistic electricity. Surrounded by like-minded artists, it wasn't long before the word got out of the powerful work found in TE San Pedro Rep. Hamlet being the first production held, audiences were drawn to see just how much power could be displayed in a room that can't fit more than twenty people.

TE San Pedro Rep continues to grown with their latest production, "Wouldn't It Be Lovely?" With several sold out performances, this modern day interpretation of Pygmalion is sure to give TE San Pedro Pedro Rep an even stronger reputation.

Wouldn't it be Lovely is showing through May 10. Tickets can be purchased here.




Featured Show

SHAKESPEARE BY THE SEA

Shakespeare's writings have entertained audiences for hundreds of years. Shakespeare by the Sea's mission is to create the same exciting performances that have been seen through the years but they strive to include all different audiences. With performances that are free of charge, Shakespeare by the Sea can "create theatrical experiences for under-served, culturally diverse audiences in order to promote artistic expression."


Founded in 1998 by Producing Artistic Director Lisa Coffi, Shakespeare by the Sea has traveled throughout South Bay, LA, and parts of Orange and Ventura Counties and has reached over 335,000 audience members.

Starting June 12, Shakespeare by the Sea will kick off a brand new season. The first play to be preformed will by A Mid Summer Night's Dream, Hamlet will follow a week after that. Whether you attend Hamlet; a show that will leave you questioning the protagonist's sanity, or A Mid Summer Night's Dream; a comedy exploring the dynamics of love, you are in for a treat.

For more information, visit the Shakespeare by the Sea

website

.

UPCOMING EVENTS
3/6/2014 - 6/5/2014
Kinetic Light
Gallery 381

4/2/2014 - 5/10/2014
Wouldn't It Be Lovely?
TE San Pedro Rep

4/3/2014 - 6/1/2014
Crossing Over
Gallery Azul

4/24/2014
Film, animation, and Video Senior Festival
Warner Grand Theatre

4/25/2014 - 5/24/2014
The Gin Game
Little Fish Theatre

4/26/2014
mike watt + the missingmen
Grand Annex

4/27/2014
Ambrosia with special guest Michael McDonald, Stephen Bishop, One Worls and King Washington
Warner Grand Theatre

4/30/2014 - 5/22/2014
Central Park West
Little Fish Theatre

5/2/2014 - 6/5/2014
Lori Lamont
Studio 347

5/10/2014
Sweeney Todd in Concert
Warner Grand Theatre

5/30/2014
POLAHS Green Festival
Port of Los Angeles High School

6/20/2014 - 7/19/2014
Mama Won't Fly
Little Fish Theatre