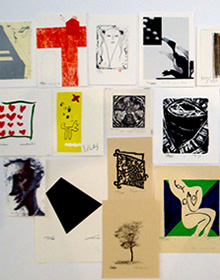 Featured Gallery:
GALLERY LS
Gallery LS is a fine art gallery dedicated to the promotion of emerging and established national and international artists. This First Thursday (May 2) as a part of the cultural celebrations, gallery LS has invited both a traditional Korean chef, Myung Lee, and a Korean artist, Phil Kho to enhance the cultural experience.
Myung Lee was born in Seoul Korea and learned to cook at her mother's side. After graduating high school, Lee became the protégé of Chef Hae Sung Hwang, a national treasure of Korea. Myung Lee has since been the first Korean chef to be featured on the cooking show, "Iron Chef", has taught at culinary schools all over the world and hopes to introduce authentic Korean Cuisine to the United States.
Phil Kho, also born in Korea, is now a Los Angeles artist, designer and teacher. Kho incorporates a combination of abstract elements and different disciplines to evoke a sense of personal, cultural and social history. Kho often reflects pieces of his homeland in his work and celebrates his Korean heritage in his paintings.

Korean cuisine will be served and art will be shown at Gallery LS on May 2 First Thursday from 6 - 9pm. Visit the Gallery LS
website
for more information.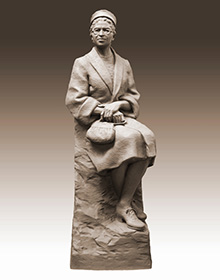 Featured Artist:
EUGENE L. DAUB
Eugene L. Daub is an acclaimed figure sculptor from San Pedro. He attended and later taught at the Pennsylvania Academy of Fine Arts. Daub sculptures are on display across the United States, he has worked in collections that are on display permanently at the Smithsonian Institute, The British Museum, Ellis Island Museum.
Daub created the Rosa Parks Statue that was installed in the National Statuary Hall in the US Capitol this past February. The sculpture is the first of an African-American woman to be placed in the capitol and the first statue commissioned by Congress since 1873. "She seemed to me a very - not shy, but modest. A very modest woman, and I wanted that to come through," Daubs comments. "That she wasn't ever looking for attention or celebrity, but she was just doing what she had to do." Daubs achievement of having a the Rosa Parks Statue commissioned by the US Congress will be celebrated on April 4th (First Thursday). Congresswoman Janice Hahn and LA City Councilman Joe Buscaino will attend this community celebration of local San Pedro artist, Eugene L. Daub.
Free Public Reception: 5:00 - 6:30pm
VIP Reception: 4:00 - 5:00pm
Visit the Chamber of Commerce
website
for more information.