1st THURSDAY
ART WALK & OPEN STUDIOS
May 1, 2014 | 6-9 PM
On the 1st Thursday of every month, enjoy San Pedro's diverse art scene with more than 30 art galleries and open studios. Stroll around in this unique portside town and enjoy gallery openings, artist demonstrations and receptions, live music, entertainment and refreshments. The event is FREE to the public.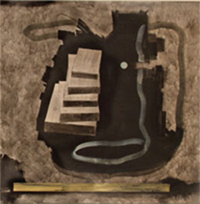 Ron Linden, I.M. Him, 2012, acrylic, graphite on canvas, 43" x 43"

Ron Linden is a painter and curator. In 2009 he founded TransVagrant, a curious collective of artists, writers, and arts advocates, to produce exhibitions and performances at various venues. His work can be found in public and private collections across the United States.

Warschaw Gallery is pleased to present ex-cerpt:, recent paintings by Craig Antrim and Ron Linden. ex-cerpt runs from January 2 though March 9, 2014.


First Thursday Headquarters
Free one-hour guided tour: 6:30 pm
Welcome to the San Pedro Arts, Culture & Entertainment District
Downtown San Pedro's Arts, Culture and Entertainment District and its immediate surroundings are home to over 90 visual artists as well as restaurants, performing arts venues and art galleries. The district is anchored by the Warner Grand Theatre, a 1,500 seat historic art deco movie palace, Little Fish Theatre, which presents repertory theater in a converted garage, and the Loft Studios, a three-story warehouse with a concentration of fine artists. The District's streets are lined with artists' live work spaces.



Featured Artist

ANGELICA SOTIRIOU

at Loft 2

Artist Angelica Sotiriou has been establishing herself in the art world for over twenty years. "Over the last decade and one half, drawing and painting, line and color, contemplative compositions have become my 'voice' again." She has received her Masters of Arts and Masters of Fine Arts degree from University of California. She has also expanded her education, studying under such artists as Lee Mullican, Laddie John Dill, Tom Wudl and Ian Colverson.




Sotiriou says "My recent drawings and paintings have been a personal journey of uncovering and revealing pathways, windows and portals of light and of spirit." This is evident in her work. With larger than life paintings involving sweeping colors and movement, real spirit can be seen in these works of art.




Today Sotiriou continues on her journey of art exploration. She has been an artist-in-residence and public artist for the Arts Council for the city of Long Beach and Angels Gate Cultural Arts Center. She has also been an art consultant for LAUSD, Cerritos, Arts Center, LACMA, and MOCA.




Sotiriou has been involved in the San Pedro artist community since 2001. Today she can be found at her studio and gallery at Loft2.

Visit Angelica Sotiriou's

website

for more information.




Featured Gallery

MICHAEL STEARNS SUDIO 347

Responding to the success of past shows during the year, which included vibrant-hued paintings, symbolic imagery and organic sculpture, Stearns plunged into his latest endeavor.

"My focus is to illustrate the balance between man and nature," commented Michael Stearns.
Stearns' use of dimension and structure prompts conversation and will present sculpture that reveals familiar elements displayed in a unique way. They address questions regarding humanity, nature and humankind's connection to the environment.


Stearns began his formal training as a painter when he was nine years old and continued his studies in art throughout his education at California State University, Los Angeles. He has persisted throughout the years as a participant in the art world.

Stearns served as a photographer between 1964 and 1966 in Vietnam and Japan while on active duty in the U.S. Navy and first partnered in a ceramics studio, Opus II, where he taught ceramics as well as drawing and painting shortly afterward.




He has owned many studios over the years, including Gallery 33 in Long Beach, and now currently Michael Stearns Studio 347 in San Pedro. Stearns' background includes displays in museums, commercial art galleries, corporate collections and private homes.

Visit the Michael Stearns Studio 347

website

for more information.

UPCOMING EVENTS
3/6/2014 - 6/5/2014
Kinetic Light
Gallery 381

4/21/2014
DTASC Presents: Shakespeare Festival Scenes

4/24/2014
Film, animation, and Video Senior Festival
Warner Grand Theatre

4/25/2014 - 5/24/2014
The Gin Game
Little Fish Theatre

4/26/2014
mike watt + the missingmen
Grand Annex

4/27/2014
Ambrosia with special guest Michael McDonald, Stephen Bishop, One Worls and King Washington
Warner Grand Theatre

4/30/2014 - 5/22/2014
Central Park West
Little Fish Theatre

5/2/2014 - 6/5/2014
Lori Lamont
Studio 347

5/10/2014
Sweeney Todd in COncert
Warner Grand Theatre

6/20/2014 - 7/19/2014
Mama Won't Fly
Little Fish Theatre