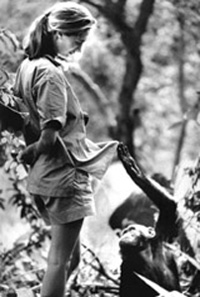 Warner Grand Theatre January 4, 2013 Tickets (Students w/ID $20 | Adults | $35) and a special VIP preferred seat admission that includes a post-show reception with Dr. Goodall | $75 at brownpapertickets.com. Group rates available for parties of 10 or more at 310-519-1150.


Jane Goodall has become known for many things; a U.N Messenger of Peace, life time activist and perhaps most commonly known as the leading expert in Chimpanzees. Goodall has devoted more that 45 years to the study of social interactions of wild chimpanzees in Gombe Stream National Park, Tanzania. She founded the Jane Goodall Institute and has devoted her life to animal welfare issues. "Chimpanzees have given me so much. The long hours spent with them in the forest have enriched my life beyond measure. What I have learned from them has shaped my understanding of human behavior, of our place in nature." says Goodall. Starting out with nothing more than a notebook and a pair of binoculars Goodall gained the trust of these once mysterious creatures. Goodall began her journey virtually unknown and has transformed into one of the leading pioneers of scientific discovery.

Dr. Goodall will be at the Warner Grand Theatre on January 4 at 7:30, a unique experience to listen to one of the world's leading peacemaker. This will be a night filled with music and stories from the Dame herself.