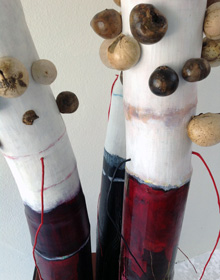 Responding to the success of past shows during the year, which included vibrant-hued paintings, symbolic imagery and organic sculpture, Stearns plunged into his latest endeavor.

"My focus is to illustrate the balance between man and nature," commented Michael Stearns.
Stearns' use of dimension and structure prompts conversation and will present sculpture that reveals familiar elements displayed in a unique way. They address questions regarding humanity, nature and humankind's connection to the environment.


Stearns began his formal training as a painter when he was nine years old and continued his studies in art throughout his education at California State University, Los Angeles. He has persisted throughout the years as a participant in the art world.

Stearns served as a photographer between 1964 and 1966 in Vietnam and Japan while on active duty in the U.S. Navy and first partnered in a ceramics studio, Opus II, where he taught ceramics as well as drawing and painting shortly afterward.




He has owned many studios over the years, including Gallery 33 in Long Beach, and now currently Michael Stearns Studio 347 in San Pedro. Stearns' background includes displays in museums, commercial art galleries, corporate collections and private homes.

Visit the Michael Stearns Studio 347

website

for more information.