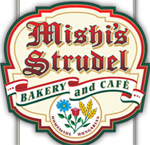 Mishi's Strudel
309 W. 7th Street
San Pedro, CA 90731
310-832-6474
Website
Email

European style bakery and cafe




Tuesday, Wednesday, Thursday: 7:30am-7pm


Friday: 7:30am-8pm

Saturday: 9am-8pm

Sunday: 9am-3pm


A family tradition emerges from its roots in Central Europe to America's beautiful west coast. Located in the historic downtown area of San Pedro, California, Mishi's Strudel Bakery & Café is a little taste of Europe where you're sure to enjoy homemade, handcrafted delights in our comfortable and relaxing atmosphere.


Using a recipe drawn from the traditions of the old country, Mishi's Aunt, the renowned Ethel Pálfi, perfected her technique of strudel making in the '70s, and eventually brought it to sunny Southern California. As her fame grew and word spread of her unique recipe, the shop boomed. Her Hungarian Strudel Shop became a fixture on Main Street in El Segundo, California in 1977. Thirty years later, Ethel's famous recipe, molded with Mishi & Anikó's zest for the delicate pastry, puts us at December 6th, 2007: opening day of Mishi's Strudel Bakery & Cafe.